I've been talking this week about t-shirt quilts to a colleague of mine, and how rich in musical history it would be.
Well incidentally it started about the history of the t-shirts that we wear , in  particular the rock t-shirts that we wear.  (Recently) reasons for buying rock t-shirts have blurred, now you can buy Ramones t-shirts at H&M without knowing who they are or you can get Run Dmc and Stones tops from Primark. It's all retro and fashionable now (maybe it always was like this? Maybe this all started with Punk going to the masses in the 70's)
Normally when you are in your teens you wear a rock t-shirt (or rap or whatever) to belong to a clan to say I'm part of that, and this is who I am. But as well as that I can recollect when I bought most of the t-shirts from my youth and at the same time the memories I had while wearing them.
For example I had this Dinosaur Jr. t-shirt which I think I wore almost everyday , except wash days for 2 years. It was an ugly t-shirt and not really becoming on a 16-year-old girl but I wore the life out of it.
I bought it when I was in Mildura from a small record store which probably closed down years ago. Whilst purchasing that one , I was wearing a t-shirt by Melbourne outfit "The Meanies" whom I adored. There was a hole in the bottom of that top from when I took an oranage from a tree and ripped the top on the barbwire fence. I had also worn that thing to many an underage gig. That used to stink coming out of every moshpit. I'm not sure how it stayed stitched together.
My first ever rock t-shirt was an INXS top from "The Swing" era. I was in the record department in Forges and my dad was rifling through a bargain bin and found the top for 2 bucks or something like that, so he got it for me. I wish I still had that, it was so 80's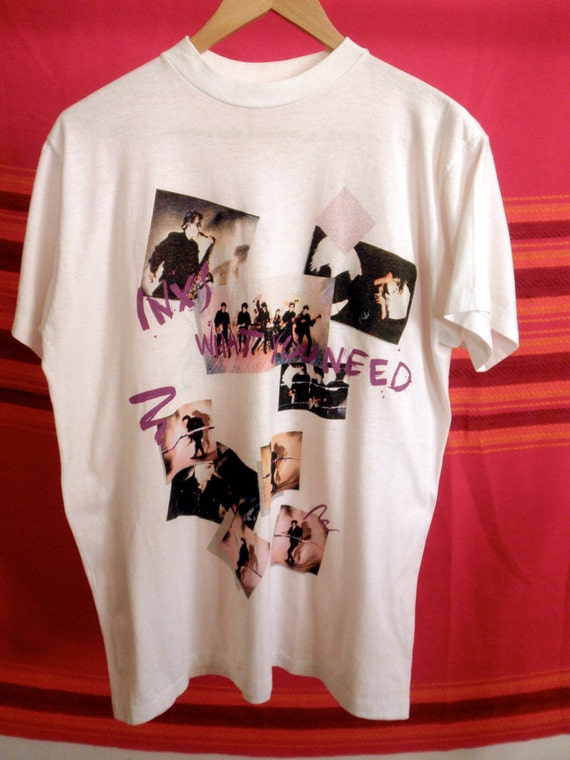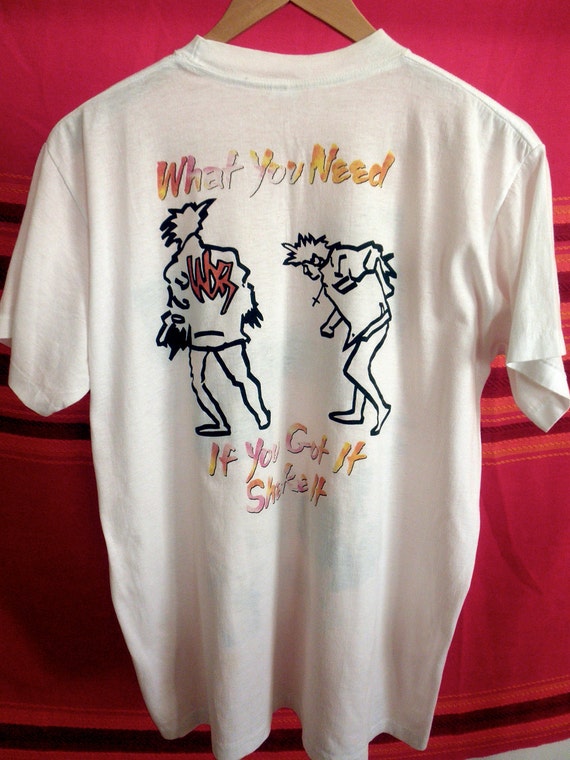 Sadly this is the only picture I could find on the net (etsy store now sold out, heavens knows how much for, looking at his other stuff must have been over 40 quid!) of it…
Then there was the well-worn Beastie Boys fight for your right to party t-shirt that I bought with a U2 american tour t-shirt from a dodgy market, that normally sold bits of ethnic homewear and car parts.
There's the oversized Smashing Pumpkins t-shirt I wore when I performed in a group called the illicit educators or something along those lines, to 1,000 people in. Looking back it was ridiculously large but at the time it was hard to get any of their merchandise in Australia, they were just breaking. Then there's the other Smashing Pumpkins t-shirt when I saw them at my second Big Day Out. Again not a big fan of that t-shirt  which had an ugly space boy desgin and lyrics on the back, but it was the only thing there at the time.
There was what I am sure the only Ride t-shirt available in  Australia in an XXXL which I bought in Melbourne on a school trip. I can remember taking my classmates into Au go-go records, they were a very confused bunch of 14 year olds. Every time I wore it I had to attempt to explain who they were to people who wished they hadn't asked.
The Lemonheads t-shirt which had the front cover of "It's a Shame About Ray".I wore all of the summer of 1992 walking around the suburbs with nothing to do. (that was an ugly one too come to think of it).
The Rat Cat one which stated that "I love Rat cat to death"detailed with skull and crossbones, which was a slight overstatement even at the height of their popularity.
The most I had from one-act was the 4 Sonic Youth t-shirt's, one in Japanese that I made my english teacher translate and one that was signed by 3 members of the band in a tent at another festival (this is not so good memories as I got into a bit of a rude discussion with one of said members no fault on my part at all)
I could go on and on, The t-shirts that came free with singles(Tumbleweed & The Clouds both bought during late night shopping on a Friday night in the city when my Dad would take me in after my radio announcing lessons and I would always end up at the long closed Virgin Megastore on Bourke Street).

The itchy scratchy ones I hated (Pearl Jam, which wore that to an Alice In Chains concert), The too tight ones (Beastie Boys & Blur) , the one I had made with an iron on transfer and a bonds t-shirt (Paul Stanley), the see through ones (Bikini Kill), the ones that I bought towards the end of my t-shirt years that hardly saw the light of day  when I should have been wearing more grown-up clothing (You Am I & The Tea Party) and the one that I was suckered into buying from a small shop off Carnaby Street because the sales man told me he had sold clothing to Paul Mc Cartney (he may have done in the last 40's year and besides it was a too small t-shirt of theSmall Faces and all the paint has come off..now it looks authentic!
Finally the 2 I am left with today, the David Bowie one which I love the cut of despite where I bought it from (Next) and another Sonic Youth one that I only get out for festivals
.
All of these I had loved and worn like you would a badge of honour. So to make these t-shirts into a quilt I'm not making a mere quilt, I'm sewing memories together, good, bad and cringeworthy and turning the quilt into an archive of my youth for generations after to keep warm under and probably get crisps crumbs all over it.
…Or I would have done if someone un-related had not raided my old bedroom and taken it upon themselves in my absence to throw them all out . That is heartbreaking.
Feel free to share with the group  your t-shirt stories.