I think I  gave up awhile ago trying to dedicate my blog just to sewing. I haven't touched my machine in such a time because of other projects, I'm worried I forgot all my technique. Oh well hopefully like a bike.
Instead last week I felt like a gatecrasher.
You know when magazines run these competitions, win an afternoon with your favourite band, or have dinner with Bieber or go swimming with Swift, you get my drift. I inadvertently  fell into this on Friday with a band who was not on my top list of artists, but I have their albums and I enjoy their music but aside from their lead singer I couldn't pick out in a crowd.
By the sea festival was on at Dreamland in Margate on Friday. They has opened the park especially for show goers with the show headliner Hot Chip playing in the Roller Disco rink. Sounds like fun. Got there early (embarrassingly before the gates opened, uncomfortable), went into the park and had the whole place to ourselves. Here's another myth, how ace would it be to have a whole amusement park to yourself? Answer not very. I felt like I was in an episode of Scooby Doo in a deserted amusement park expecting some villain dressed as a sea monster to attack us.
We had to wait for the newly opened scenic railway, so we headed towards the dodgems. Hot Chip had the same idea and followed us, It was only us and Hot Chip, nobody else. Whilst their lead singer dj'ed I spent most of my time blushing whilst trying to avoid hitting them, all the while it was filmed. I don't know why I found this mortifying, but I did. I felt like a gatecrasher and I just wanted the thing to end. They were perfectly nice in the way famous cool music nerds are,  but I just felt like a nerd instead. I couldn't get off that ride fast enough…except I couldn't . The guy let us all go round another 2 times…By the end of that I was just going to jump off , even if there was a threat of a third.
Then we waited for the scenic railway, and so did the band. It was like following them in reverse. Honestly I was not being a "fangirl" I'm much too old for that, and after some disastrous meeting of  bands as a teenager (god do not get me started on Sonic Youth) I avoid most people with any degree of fame at all costs. But we went on, thankfully only once round and then after that I split.
The ground was still deserted. The staff was great for a chinwag as they had no other customers. It was a shame as I'm sure they would think twice about opening that up again for about 20 people.
It got cold, real cold but once I got to my beloved 2p arcade machines I was happy, lost £2 but it was the joy I had in losing it. We did collectively get enough prize tickets to get Rockette  (who was at home in bed) some rubbish Frozen activity pack, winner!
Band were great, but woe of woes the crowd were not. I feel like resident complainer of crowds. The only image I'm going to impart is people dancing, quite vigorously with raised glasses of wine. Yeah wine.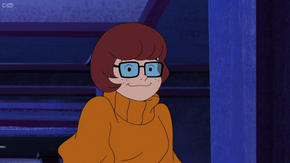 I had to get out, I was squashed, hot and not having a good time. I stood in a bar cue for 20 minutes trying to buy a coke and dancing there. I had much more fun. Maybe I'm just Velma from Scooby Doo?
During the band interval break, news had been breaking about what had been happening at the Bataclan in Paris at the same time. It changed the whole mood. It was shocking, these people were just doing the exact same thing we were, but they were killed for it. Its fucking horrible, and terrifying.